Looks like this event has already ended.
Check out upcoming events by this organizer, or organize your very own event.
Children's Advocacy Days 2011 - The Art of Children's Advocacy

Tuesday, March 15, 2011 at 9:00 AM

-

Wednesday, March 16, 2011 at 12:00 PM (CDT)

Nashville, TN
Event Details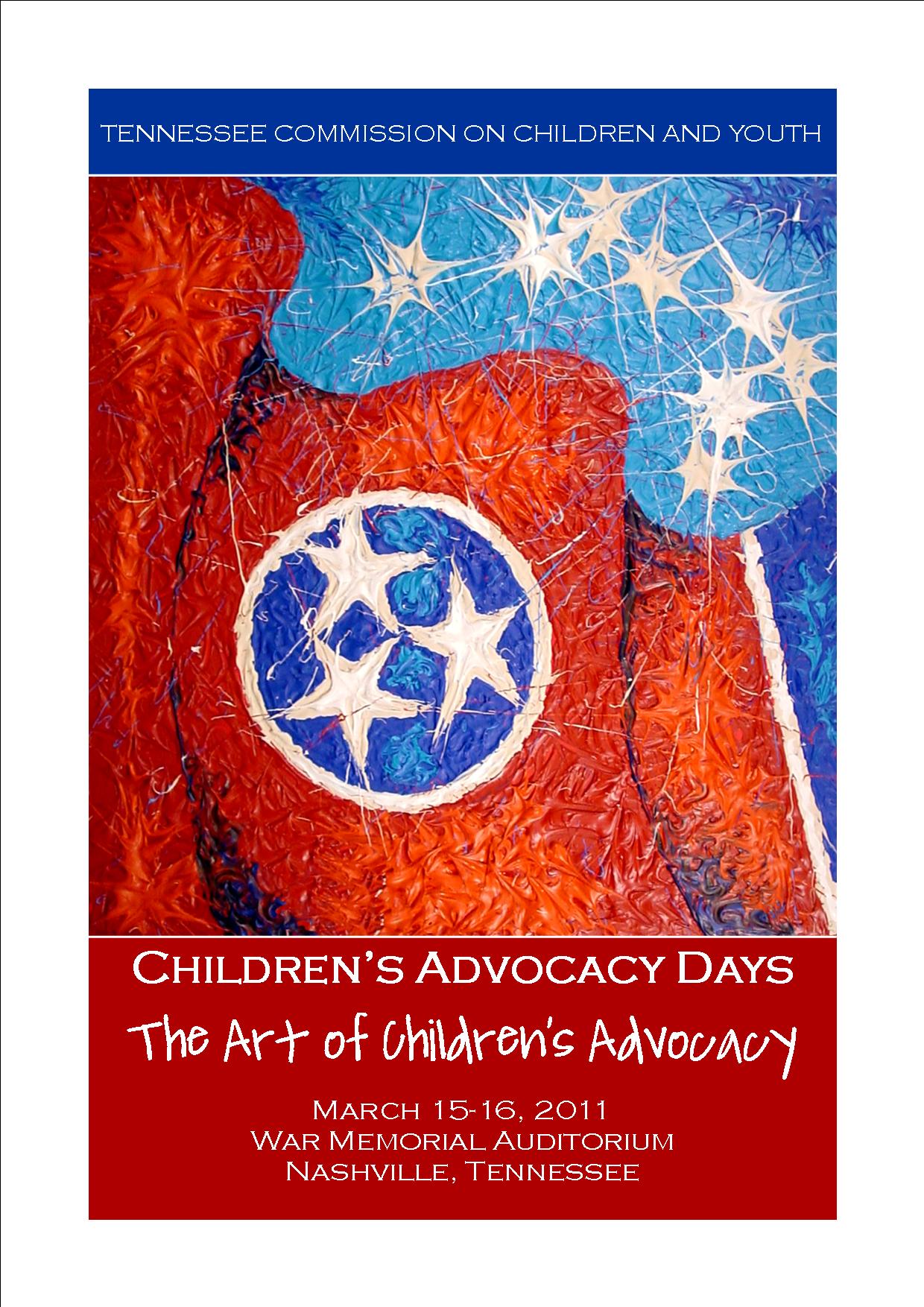 IMPORTANT NOTE:  ONLINE REGISTRATION WILL END AT MIDNIGHT MARCH, 10, 2011. WE ARE CLOSING ONLINE REGISTRATION IN ORDER TO BE CERTAIN WE HAVE NAMETAGS FOR ALL OF YOU!  :-)  HOWEVER, IF YOU ARE READING THIS AFTER MIDNIGHT ON MARCH 10, 2011, YOU CAN STILL REGISTER BY EMAILING US AT NORMA.TOLLIVER@TN.GOV
THANKS!
The Tennessee Commission on Children and Youth is pleased to present  
Children's Advocacy Days 2011: The Art of Children's Advocacy
on March 15-16, 2011.
For 23 years, TCCY has equipped child advocates with information and skills to help them speak out on behalf of the state's children. However, we know advocacy is more than just information, rules and relationships: It's an art. 
Arts – performing, music, dance and visual, fine and crafty – are at home in Tennessee. Artists like internationally recognized folk sculptor William Edmondson and Tennessee actress Reese Witherspooon add meaning to life in this state.
TCCY will be calling upon many people to help paint a picture of children's advocacy through information, presentations and actual art. 
This year we will be getting to know new faces, as the state has a new governor, new commissioners of state departments and many new legislators. And, new people will be introduced to the
Art of Children's Advocacy.
When & Where


War Memorial Auditorium
301 6th Ave N


Nashville

,

TN

37243


Tuesday, March 15, 2011 at 9:00 AM

-

Wednesday, March 16, 2011 at 12:00 PM (CDT)
Add to my calendar
Organizer
Tennessee Commission on Children & Youth
TCCY's Vision. All children in Tennessee have the opportunity to achieve their fullest potential and are safe, healthy, nurtured and educated.
TCCY's Mission. The Tennessee Commission on Children and Youth (TCCY) is a state agency with a primary mission of advocacy for improving the quality of life for Tennessee children and families.
The policy-making body of TCCY is a 21-member commission whose members are appointed by the governor. At least one member is appointed from each of Tennessee's nine development districts. Five youth advisory members meet the federally mandated composition required for a Juvenile Justice and Delinquency Prevention Act state advisory group.
TCCY works with state agencies, juvenile courts, child advocacy groups, interested citizens and other organizations to improve services to children. The commission members, central office staff and regional coordinators are engaged in the following activities:
Improving the coordination of services for children;
Collecting and disseminating statistical and programmatic information;
Informing citizens and organizations of children's issues;
Tracking legislation and making recommendations to the Governor and Legislature;
Administering the Federal Juvenile Justice and Delinquency Prevention Act, the Juvenile Accountability Block Grant and other federal and state grant funds for juvenile justice programs.
Tuesday, March 1, 2011 - 5:43 PM
IMPORTANT PARKING INFORMATION
We are just a few short days away from the best Children's Advocacy Days EVER!  As promised every year, we read and re-read all of the comments past participants have made.  We do our absolute best to incorporate as many suggestions as possible.  An issue which always arises is PARKING!
We heard you.  :-) 
In an effort to help with this troublesome necessity, please check out the following link
http://www.tpac.org/visiting/otherparking.asp
Hopefully, this will help with your planning and make your experience even better!
Tuesday, February 22, 2011 - 7:40 PM
Whooo Hoooo! Young People from VSA Tennessee will be Performing!
VSA arts is an international non-profit organization founded in 1974 by Jean Kennedy Smith to create opportunities for people with disabilities to learn through, participate in and enjoy the arts. They provide educators, parents and artists with resources and the tools to support arts programming in schools and communities.
VSA arts Tennessee was started in September of 2002 and is made possible in part through funding from VSA arts, under an award from the U.S. Department of Education, and generous contributions from other Sponsors and Volunteers.
VSA stands for Vision, Artistic Expression, and Strength.
Tuesday, February 22, 2011 - 7:35 PM
THANKS to artist Gregory Beck for allowing us to use his artwork!
Specializing in figurative cast bronze sculpture, Gregory Beck's instinctive ability to observe the subtle and the obvious in human nature, is translated directly into his inspirational works.

Gregory traveled to Europe surrounding himself with Renaissance masters and spent time in Florence, Italy sculpting and developing his unique style and approach to figurative sculpture. Rhythm, flow, balance, harmony and tension are embodied into each sculpture while blending a classical sense of style with a contemporary feel for design.

Gregory is a member of the National Sculpture Society and has exhibited in their New York juried exhibitions. Represented in fine art galleries across the country, his award winning artwork is collected internationally. In recent years Gregory has completed many private and corporate commissions and is currently focusing on large-scale public sculpture projects. To see Gregory's sculpture, paintings and sketches please visit www.ArtByGregoryBeck.com .
Tuesday, February 22, 2011 - 1:18 PM
Tennessee's First Lady Crissy Haslam Confirmed as Speaker 
Born in Houston, Texas Crissy Haslam moved with her family to Memphis, Tennessee when she was eight years old.
She attended St. Mary's Episcopal School in Memphis where she served as President of the Student Council. In 2008, she received the award for Outstanding Alumna of the Year.
In 1976 she began attending Emory University in Georgia, graduating in 1980 with a double major in Finance and Marketing in the College of Business. She served as the Vice-President of the Business School Council while at Emory.
After working for the phone company, Southern Bell, in Atlanta, she married Bill Haslam and moved to Knoxville in 1981.
Crissy went to work at the University of Tennessee-Knoxville as the Assistant Director of Admissions until 1984. She received her Master of Science Degree in Education in the program of College Student Personnel at UT Knoxville in 1985 and also worked as an advisor in the College of Liberal Arts.
Crissy and Bill have three children. Their oldest, Will, is married to Hannah and currently works at Pilot Travel Centers. Annie recently graduated from Princeton University and is living and working in downtown Knoxville. Their youngest daughter, Leigh, is a senior at Clemson University.
Crissy has served on a number of civic boards including:
Alcoa Community Advisory Board

Art and Cultural Alliance, Executive Committee*

Bearden Elementary PTO President

Beck Cultural Exchange Center*

Character Counts

Child and Family Tennessee, Executive Committee

Imagination Library*

Inskip Elementary Community Committee

John Stott Ministries Board*

Junior League of Knoxville, Executive Committee

Knoxville's Promise

Knoxville Symphony*

Salvation Army, Executive Committee*

U.T. College of Social Work*

Webb School of Knoxville, Vice-Chair

Young Life of Knoxville*
* Currently serving
Crissy has attended Cedar Springs Presbyterian Church for 28 years and has volunteered extensively at the Love Kitchen, a provider of meals for Knoxville's poor and homebound population.
Tuesday, February 22, 2011 - 1:15 PM
Cool People Care's Co-Founder and President Confirmed as Speaker 
A speaker, writer, and dreamer with a few years in the nonprofit world, Sam Davidson seeks to tell the stories that need telling in order to motivate people to change the things that need changing.
Having worked in both the corporate world and the nonprofit sector, he has seen the potential of individuals and companies to do the right thing when needed. To this end, he seeks to help people make better choices in order to have a positive impact on those around them.
Sam writes regularly about life and his thoughts on social media, marketing and nonprofits on his personal blog. He has been syndicated on EthicsDaily and YPCommons. His favorite topics include the potential of the next generation to change the world for the better.

Having worked and consulted in the nonprofit arena, his approach to impacting one's world is believable and, even more importantly, doable. His first book, "New Day Revolution: How to Save the World in 24 Hours" is evidence of this, and was published on November 1 from Xyzzy Press. He writes most of the content for CoolPeopleCare.
He frequently travels and speaks on issues related to social entrepreneurship, the next generation, and saving the world. He has recently spoken at places like Harvard University, Madison MAGNET, and the Harmony Project and has been quoted in The Boston Globe and USA Today.
Sam has been married to Lynnette for six years and is a very proud, brand new dad.
Wednesday, February 16, 2011 - 12:03 PM
We are VERY excited YouthSpeaks Nashville will be performing at CAD 2011!
Through words, all youth claim the power and hope to determine their future.

Through the literary and performing arts, Youth Speaks Nashville offers creative solutions for youth to build literacy and presentation skills, reconnect to their education and to their lives, and act as leaders in the improvement of their communities. We are absolutely committed to providing youth, especially in underserved communities, with as many opportunities as possible to develop and publicly present their voices both live and in print, video, audio, and digital media.
Wednesday, February 2, 2011 - 4:06 PM
Hello All!  Thank you so very much for your registration to participate in Children's Advocacy Days!  Registration is already exceeding our expectations.  Please continue to help us spread the word.  We also want to share some information.  Eventbrite will give you the option to print a Ticket.  There is really no need to do this, so save your time, energy and paper!